Today we're going to talk about nutrition. Looking after your nutrition as a fighter or martial artist is essential, not just to success in the sport, but to have a comfortable life. I'm sure you've heard this lecture a million times before, but it's simply true.
Without proper nutrition, you will not be able to achieve the level of performance you want. So today I'm giving some advice on how to look after yourself as a martial artist. These are just ideas though, a proper nutrition plan needs to be tailored to you and your needs, ideally with a professional nutritionist.
First, remember that proper nutrition is not a diet, and no person on planet earth should go on a diet. Diets are temporary plans to get your weight, blood sugar level or other factors to where they need to be, and are usually abandoned when the goal is met, thus causing the person to revert back to whatever state they were in before.
Don't go on a diet. Do learn how to give your body proper nourishment with principles that can last you a lifetime. Most importantly however, don't eat a bunch of healthy food you don't like, just because they are healthy. Find an alternative that you do like. There's no sense in eating healthy if every meal is unappealing to you, then how could you ever stick to that meal plan?
Your macronutrients:
You've probably seen this chart before: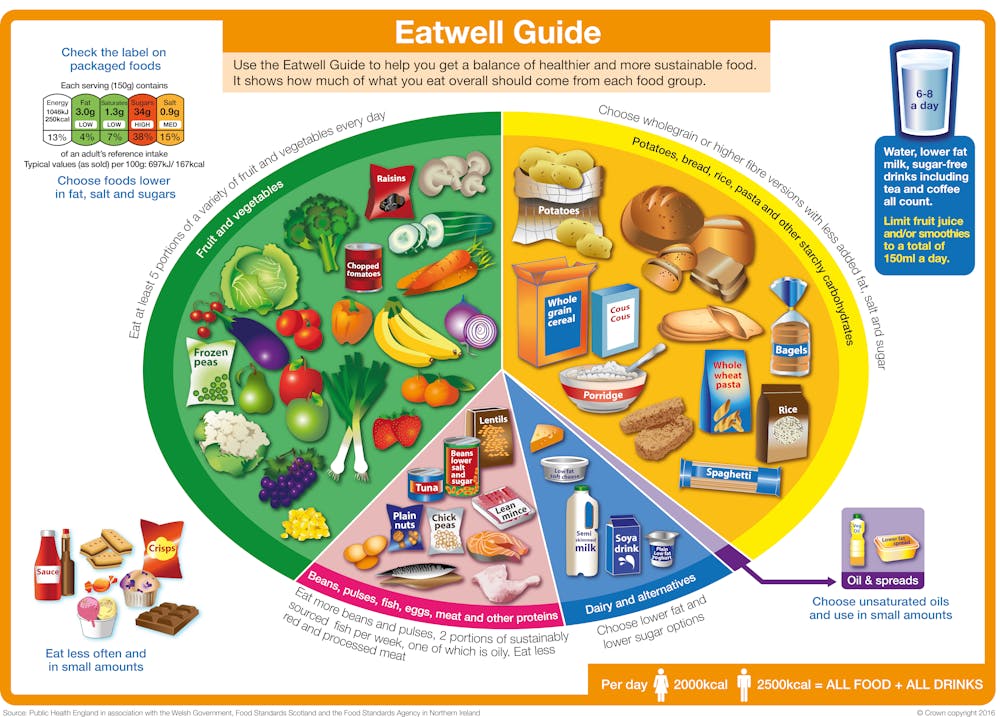 It's by no means the best example of what you should be eating, but gives a good idea of how to generally get your macronutrients. Macronutrients are:

Fat: Which is important for joint health and recovery. Fat often gets used negatively to mean 'someone who is fat' or that 'fats are bad for you'. This isn't true, there are healthy fats that you absolutely should be eating. This doesn't mean that the KFC I finished just before writing this was good for me though. You ideally want to get healthy fats from sources such as:
Nuts, avocados, salmon, cheese, whole eggs, chia seeds and olive oil.
Healthy fats are essential to help your body absorb vitamins and minerals that it needs. Don't avoid them, just be smart about them.

Carbs: Another macro that gets an unfair reputation. Diets usually aimed at women emphasise low carbs, because carbs turn into fat and no one wants to be fat, right? Well, again this isn't really helpful advice. There are simple carbs, and complex carbs. Simple carbs break down quickly and complex carbs breakdown over time. Complex carbs are preferred, but carbs in general are needed because they are the main source of fuel for your body to keep you running. Carbs don't just keep you fed though they can also actually help you lose weight. If you are under-eating in an attempt to lose weight, your body will instead cling to every pound it can to keep you going, rather than burn off the excess that it doesn't need.
Healthy sources of carbs are: Sweet potato, rice, quinoa, and wholegrain bread (among others).

Protein: Every gym bro's favourite. If you eat 1 chicken breast per pound of bodyweight you will be like Arnold Schwarzenegger in no time, everybody knows that.
Well, protein is important, it helps muscles recover and grow – but we don't actually need as much protein in our diet as you would normally think for. Somewhere in the range of 100-150gs of protein a day is perfectly acceptable for most people whether they are growing and building muscle or just maintaining their current physique.
Healthy sources of protein include:
Chicken, fish, red meats (though they are higher in fat).

Of course you also want a healthy supply of vegetables, as the vitamins and minerals from vegetables are essential to keeping healthy. When chasing muscle gains and other such fitness goals it can be surprisingly easy to forget what our mums nagged us about all those years. Vegetables are non-negotiable. If you have the right supplementation and finances, you can go without meat, but nobody can go without vegetables. We evolved as omnivorous primates what got most nutrition from plant matter, and that hasn't changed.
So, how do we fit nutrition into our daily routine?
For some people this might be obvious, but finding how to balance your meal time with your training and general life is deceptively hard. WWE star Sheamus has talked about how he had to take chicken breasts wrapped in tin foil to clubs with him when out partying so that he could still get in his proper protein intake.
So let's start in the morning.
Breakfast:
You will need a source of carbs to give sustained energy throughout the day, particularly when sparring. This also a good time to start getting in some protein, such as eating eggs with toast. Porridge and berries is also helpful for releasing energy throughout the day.
Fasted cardio (before breakfast) is all the rage at the moment. Science shows that fasted cardio actually doesn't make any difference in performance, negative or positive, so if you feel more comfortable doing cardio before breakfast, then power to you, but don't feel as though you have to do it in order to get some sort of edge on the competition. It simply doesn't work that way.
After a workout:
It's important now to get a good source of protein in, to help your muscles recover from the work they've been putting in at the gym, regardless of what sort of work you've been doing. Usually the best time to take in protein is within half an hour of your workout for the best results.
The easiest way to do this is to use whey protein or other supplements, but equally having something as simple as a tub of chicken and rice on standby. If you do choose to go the protein shake route, protein powder mixed with blended blackberries and water will have anti-inflammatory benefits, although may not be to every one's taste.
Dinner:
Dinner is maybe the best time to get in protein. Having a source of protein, with vegetables and sides like rice or sweet potatoes will give you everything you need to refuel at the end of the day. You definitely want to keep changing things up, to stop food getting repetitive.
Actually having a healthy relationship with food isn't talked about nearly enough. When chasing certain performance goals or a certain look it's easy to view food as 'the enemy' or to develop some form of body dysmorphia. That's why you want to make sure you're eating foods that you like in healthy amounts, days where you eat whatever you like are completely fine – but you'll be far less tempted to cheat if you're consistently eating food that you genuinely enjoy. It's there to help you achieve your goals, not to make you feel bad about it, or yourself.