UFC 220 was an exciting and frightful affair. With no UFC heavyweight champion defending the UFC belt more than twice (a fact making Fedor Emelianenko's legendary heavyweight win streak all the more impressive), it seemed like the division was well and truly cursed. With part time firefighter Stipe Miocic about to face off against the ferocious power puncher Francis Ngannou, many fans believed that the curse would prevail.
Noise around Ngannou was deafening, with fight fans so focussed on Ngannou's power that they figured there was no way Stipe's chin could hold up, but here we are a week on and Stipe Miocic is now the most accomplished UFC heavyweight champion of all time.
Stipe and Francis both rode into the octagon with impressive win streaks. Ngannou was 6-0 in the UFC with all of the wins by stoppage, and Stipe was riding a 5 fight win streak over some of the best in the division, again all by stoppage.
The key difference being while Ngannou was gassing out in the second round against Curtis Blaydes before a doctor's stoppage between rounds, Stipe had gone for five rounds against Mark Hunt – a truly ferocious counter puncher with atomic bombs in both hands.
Francis Ngannou was a big scary counter puncher, who wants you to swing at him so that he can knock your lights out with a well-placed counter right or counter uppercut. Unfortunately, it was also clear as day that he didn't have the gas tank to keep up that game for long.
There was a clear path to victory, and it was by and large the same path Stipe had walked against Mark Hunt. Take Ngannou into deep water and drown him.
Beating the Counter Puncher
There are two tried and true methods to defeating a counter puncher, staying on the outside and making them come to you, or making clever use of feints to mask your real punches, and make the foe counter punches that aren't coming and leave them swinging at nothing but their inner demons.
Stipe used both methods.
In order to put a counter puncher on the front foot, you need to use distance (which we talked about in our last Diesel Breakdown) and non-committal attacks. A counter fighter typically likes to either catch an opponent coming in, or catch an opponent out of position, and throwing a big haymaker will certainly leave you out of position, as poor Alistair Overeem found out:
Overeem threw so wild and ducked from so low that he ran the risk of being knocked out by anyone, let alone a big hitter like Ngannou.
The bell rang and the first thing the champion did was feint Ngannou out, half stepping into his space and causing a reaction.
In a surprising turn of events, Ngannou immediately lost his composure and went into an onslaught against the champion, throwing up an ill-advised high kick and rush of punches into the champion which only succeeded in getting himself taken down.
Ngannou was so flustered that even after getting up to his feet, he continued to chase and swing for the fences. Usually a counter fighter isn't provoked this easily.
Unfortunately for Francis, like most counter punchers, he was quite easy to time on the offence, having no fakes or set ups of his own, allowing Stipe to counter him and control him.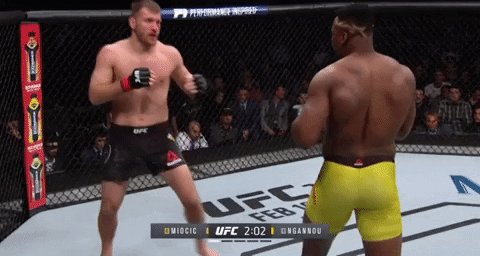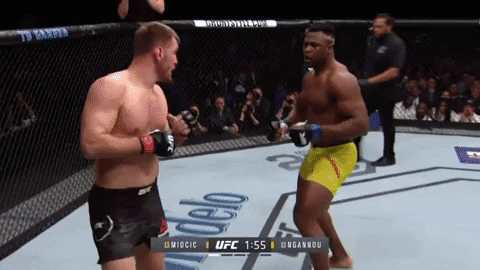 Stipe's faked jabs stifled the giant, who was unable to predict when the real punches would be coming, and as such wasn't able to react in time to the champions takedowns, which were also heavily disguised by his feinted footsteps.
Now that Stipe had successfully made Ngannou fight on the front foot, the only thing left was to punish Ngannou's advances. Whenever Ngannou stepped in he was hit with a quick low kick or counter punch, shutting down his offence and leaving him essentially just… a man in the ring.
While Ngannou's power was no doubt terrifying, the predator could never find Stipe on the feet and was thoroughly outclassed on the ground.
Tiring the Giant
Getting the takedown was only half the battle, when it came to draining Ngannou of all of his energy. Stipe wore the challenger down using a variety of 'rides', that is, when a wrestler uses a position specifically designed to control you and make you carry their weight.
In the second round Stipe goes for a blitzing double leg takedown that spanned the full width of the cage before cramming Ngannou at the other end of the Octagon.  From there Ngannou immediately turtled in an effort to try and stand up.
Stipe immediately goes for a spiral ride, with his arm wrapped round Ngannou and inside his thigh. Usually a wrestler will use this as a lever to break down their opponent and prevent them from getting to their feet and carry the wrestlers weight for longer.
When Ngannou began to stand, Stipe immediately switched to put pressure on Ngannou's head. Where the head goes, the body will follow, and it's very hard to get up when you're fighting against 240lbs of weight – all of which is pressuring the back of your head.
While Stipe has success here, he still has to punish Stipe with strikes in order to remain active and prevent the referee from breaking them up. Ngannou uses the moment in which his face is being attacked to stand up – Stipe immediately places his hand on the back of Ngannou's head again and forces it down, bringing the pressure back to Ngannou.
Realising that his opponent is close to getting up, Stipe once again goes for the spiral ride, places his knee behind his opponent and shucks him back down and really leans into him. This kind of pressure combined with the occasional hard knee to the body, completely sapped Ngannou of any energy that he may have had left.
This game plan was successfully executed for five rounds and by the last one, Ngannou was so tired that he had lost all semblance of footwork, moving his rear foot towards his front foot before taking a step forward, thereby shortening his stance and making him even more hittable.
None of this in anyway, is meant to mock Ngannou, as he has come very far in the sport in a very short span of time – but now the game plan to beat him has been so thoroughly laid out, he will need to develop a lot more as a fighter to stay afloat in the UFC. With his power, if he can improve his offensive boxing, counter wrestling and cardio – we could very well see him become the champion one day.
So, how did Stipe win?
Stipe feinted at the counter puncher and use non-committal jabs to keep Ngannou swinging at the air
Forced Ngannou them to fight on the front foot and countered his attempts to strike
Used spiral rides and head pressure to wear the challenger down, leaving him heaving for breath in the later rounds.
~ Andrew