Styles make fights is the most tired cliche in the business. It's so tired because it's true. While any armchair coach will tell you that styles make fights as their sole reasoning for why Conor McGregor will DEFINITELY beat Floyd Mayweather in under four rounds – the truth is that the styles that make the fights are usually the habits, more than the overall skill set.
At the highest levels of MMA, most fighters are fairly complete packages and they are usually competent at most things. That's why fighters train to exploit the bad habits of the fighter. Whether it's Stipe Miocic or Thug Rose, using feints to make the seemingly scarier strikers punch the air and look ineffective, or its Rafael Dos Anjos using Anthony Pettis weakness to pressure and body kicks to beat him from pillar to post – a lot of the time its very small things that make very big differences.
Fabricio Werdum: Over Aggression and Poor Striking Form
There is probably no more frustrating UFC Heavyweight than Fabricio Werdum. Frequently touted as one of the most well-rounded fighters in the game, known for his fantastic submissions and aggressive striking.
Unfortunately, despite every UFC commentator telling you that Werdum's striking is elite level – his lack of basic fundamental skills has got him into trouble multiple times. Today's Diesel Breakdown will be looking at the curious case of Fabricio Werdum and how his bad habits resurfaced once again to cost him against Alexander Volkov.
Perhaps the worst habit of Werdum has as a fighter is never knowing where his head should be positioned. He frequently leads with his face and will often run on straight lines at his opponents. This cost him against Stipe Miocic – yet it was looked upon as though it was a moment of low fight IQ – as opposed to a regular feature of Werdum's game.
At UFC 203 – Fabricio defeated Travis Browne in a similar dominant fashion to their first bout. Werdum was back they cried – the Werdum that showed up at UFC 203 would easily beat Stipe, they said.
Unfortunately…
Every punch thrown by Werdum in that sequence is thrown while his head is in front of his knees. He is off balance and leaning forward on all of them. This leaning would not be the end of the world, and something that could easily be fixed in training – were it not for the fact that Werdum leaves his face exposed on nearly every strike he throws. Something that Mark Hunt also successfully exploited in their fight.

Despite this exact behaviour costing him his title, he and his coaches had seemingly made no effort to improve Werdum's basic defensive responsibility.
Alexander Volkov:
The Russian fighter Alexander Volkov, while by no means beating elite competition had made a pretty good name for himself going into this fight. Sporting a 29-6 record and a former Bellator Heavyweight champion (losing it to the terrifying Vitaly Minakov) , Volkov's striking was not fundamentally perfect, but far more technically sound and creative than Fabricio Werdum's.
A brown belt in kyokushin,  Volkov could not only fire of high kicks easily – but could do so from unusual and surprising angles.
More importantly though, Volkov fires his punches straight down the pipe – and he is more than willing to punish a rushing opponent.
The Fight
And so comes UFC London, a relatively shallow British card headlined by a Brazilian and a Russian. The commentary team tout Werdum as an excellent high-level striker, when he is not, and he is faced with a much taller, rangier striker. In truth this match up was always going to be a hard one for Werdum, just based on his own defensive short coming – and Volkov seemingly being built in the same tall man factory that produced Semmy Schilt and Stefan Struve.
The upside is that Werdum seemed to know this and does his best to deny Volkov his reach by taking him to the ground. While doing a decent job on the ground, Volkov proved to be far more competent at defending on the ground than Werdum realised and at several points in the bout was actually getting the better of the Brazilian world champion.
By the fourth round it had become apparent that fighting Volkov on the ground was becoming less and less an option. Werdum hadn't been able to get the submission he was looking for and each attempt at taking Volkov down or sweeping to get his back was resulting in punishment. So Werdum defaulted to what he always does. Wind-milling strikes without guarding his face – and once again it got him knocked out.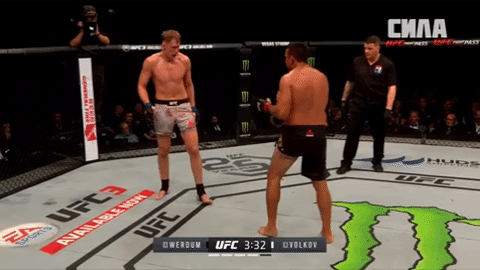 While there's no shame in losing to younger prospects, it seems that Werdum is simply done growing as a fighter. While he has aggressive striking, that's all there is to it, pure aggression – he lacks the defensive ability, or offensive subtlety to really make the most of his striking – and it seems that more and more he falls back on his old habits. His flying kick, which he landed once on Travis Browne, he now proceeds to use at least twice a fight, defeating the point of it being a sneaky surprise attack. Werdum is by no means a bad fighter, he's a great fighter, but he is not the great striker he is touted as. While we can only hope that Werdum learns defensive craft to prevent him taking more concussions in the future, all we can do is learn from his mistakes – and hope that the next generation of fighters is even stronger.
~ Andrew