A few weeks ago I talked about Vitor Belfort at the peak of his TRT. I said that I would talk about him again before his upcoming fight with Oscar De La Hoya.
I had initially planned an article on why Vitor would most likely beat the former boxing legend. Due to a mix of reasons, Vitor hadn't been out of the game as long as De La Hoya, had a considerable size advantage and De La Hoya hasn't been in shape for years with no reason to believe he would get in fight for this quick cash grab.
Then bizarrely the fight was changed to a professional bout, as opposed to a sanctioned bout. Which left me confused, but before I could wrap my head around it – De La Hoya went and got coronavirus and was replaced by Evander Holyfield.
But then it got weirder. It was announced just a few hours ago, that the celebrity boxing match would be commentated by former President and former boxing promoter Donald Trump of all people and would be taking place on the 20th anniversary of the September 11th terrorist attacks. After getting over the initial whiplash it started to make more sense, Holyfield was a supporter of Trump and likely wanted to get as many eyes on his return to professional boxing as possible.
Putting aside that this match will now clearly be a political ploy of some kind, and that the commentary will talk about everything but boxing, how does Holyfield compare to De La Hoya?
The Fight
One of the chief advantages that Vitor had over De La Hoya was size and athleticism. His size advantage is gone here, but he is probably still the more athletic of the two fighters right now.
We talked in that previous Vitor article that Vitor was less a boxer, more a charging rhinoceros. If we are to attempt to seriously analyse this old man fight as any sort of legitimate contest (it's not) – the question would be has Vitor learned to box with technical savvy.
Well, one thing we do know for sure is Vitor doesn't tend to learn from his mistakes:
Joking aside it is very unlikely that Vitor has developed any sort of real craft or savvy in preparation for this fight. That would require this to be a serious attempt at a boxing career, rather than a trip to the circus for a quick paycheck.
Anderson Silva proved that he actually belonged in professional boxing a few months ago when he defeated Chavez Jr. in a surprisingly one sided bout.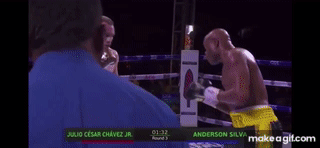 We've seen that it's not out of the realm of possibility that a great striker from MMA, can come out and defeat a respectable boxer, even if they're not truly at the top level of the sport.
So it stands to reason here that Belfort should have a chance just by pure virtue of strength and athleticism. The caveat here though is unlike Silva, Belfort is not a great striker. He was an unrelenting force, and is that enough vs a larger man, with far more experience in the sport who is willing to do this:
The greatest foul of all time. Inarguably intentional, yet so majestic. The kind of fouls that lead to Mike Tyson biting your eat off in frustration. Holyfield was a nasty, gritty fighter who could dig down and pull some truly heinous sh*t off in a boxing match and still get away with it.
If you were able to challenge him skill for skill, very few could deal with his outright cheating, which he consistently got away with. Make no mistake, this isn't a condemnation of Holyfield. He was a truly fantastic boxer, but he was a dirty fighter, and when the referee is allowing dirty fighting, there's no incentive not to do it.
How will Vitor cope against Holyfield? And will it even be an entertaining fight? Will it end up just being something we briefly talk about in the news due to its controversial commentator bringing his day job into boxing?
I guess we'll find out on Saturday, but honestly, I won't judge any of you if you just sit this one out.
About the author:
Andrew is Diesel's very own analyst, running Diesel's online magazine. Diesel lean's on his expertise in breaking down fighters, analysing match ups and helping Diesel shape it's next generation of fighters.
In addition to providing private striking coaching, Andrew has spent time as a staff writer for Muay-Thai-Guy.com, being personally endorsed by the website's founder, Sean Fagan.