Diesel Breakdown's Southpaw Series applies to boxing, kickboxing, muay thai and mixed martial arts. Footwork and hand techniques are universal between each sport – but adjustments have to be made depending on your chosen discipline.
Southpaws are typically far trickier to deal with than orthodox opponents. Southpaws make up an extraordinary percentage of the greatest fighters of all time. Marvin Hagler, Anderson Silva, Samart Payakaroon, Giorgio Petrosyan. No matter the discipline there always seems to be a southpaw with ridiculous success.
Regardless of whether you're struggling as or with a southpaw – this 2 part guide will put you on the right track.
In striking we often over simplify, saying southpaws are difficult because their power side is coming from the 'wrong' side. This is only partly true. The two main reasons orthodox fighters struggle are as follows:
Lack of proper training with southpaws
Failing to recognise the key techniques of the southpaw
When training southpaws is often tempting to pair them with other southpaws. The reasoning being that it's easier to have everyone drill the same combinations. Unfortunately doing  this ultimately benefits no one, as orthodox fighters do not get to drill their techniques adjusted for southpaws, and the southpaws will end up learning their techniques in a way that simply doesn't benefit them against the majority of the opponents they will face. The best way to train southpaws effectively is to partner them with someone different each round, ensuring the entire class gets a round with a southpaw.
From regular drilling and sparring against southpaws, students will be able to over time find and identify the most common techniques used by southpaws. Today we'll look at  Giorgio Petrosyan, the greatest kickboxer in the history of the sport, to demonstrate the essential southpaw techniques.
The Left Straight
The left straight is the most important punch a southpaw can know. Due to the lead hands overlapping in an open guard (southpaw vs orthodox) match up jabs are easily parried, but power shots from the rear side open up. A good southpaw SHOULD learn a variety of feint jab feints in order to develop a killer jab the same as any other fighter, but the left straight is more typically the go to attack.
Because it's so much easier to land rear straights in open guard, it's easy for these fights to descend into brawls. In this fight we see Giorgio excel at drawing right hands from his opponent, pulling back and countering them with a hard left. This is quite similar to the technique frequently used by Conor McGregor to hurt rushing opponents.
A counter left is a southpaws money punch. Against kickboxing legend Andy Souwer, Petrosyan made use of it for not just countering punches but kicks too. A southpaw straight is more reliable and free than it would be in a closed guard match up, allowing Petrosyan to stay firm and strong and simply punch through Souwer's low kicks without much trouble at all.
Despite being a versatile punch with a thousand applications on it's own, southpaws are at their most effective when they use it in combination with leg strikes from the left side.
The Left Leg
Depending on the range, a southpaw straight will effectively set up either a left round kick, or left knee strike. Even at the highest levels of competition fighters are often conditioned to expect strikes to come in left, right patterns. Following a left sided attack with a right sided attack is the most effective way to shift weight and maximise power. However the best fighters will know that sacrificing power and doubling up on strikes from the same side is less predictable and very effective.
A southpaw left kick or knee, strikes the right side of the opponents body, making it far more likely to hit the liver of an opponent. Here we Giorgio use his left straight to draw the guard of Robin van Roosmalen high, allowing him to quickly fire a knee to the body, before quickly pushing him away to prevent him from firing back.
Almost immediately after, Robin presses forward again, his guard still high. Petrosyan presses him to bait an uppercut, this leaves Van Roosmalen's body open again for Petrosyan to knee and this time immediately tie up to defuse a counter attack.
Side note: notice that in both of these gifs Petrosyan distracts attention away from the body shot and then prevents a counter attack in two different ways. Pushing the target away and tieing up are essential techniques for a fighter to learn defensively.
Here we see Sittichai Sitsonpeenong triple up on a left teep, left straight to the body and finally a left knee to defeat Davit Kiria.
And finally Giorgio throwing a left high kick to gain a KO win. The beauty of southpaw's left sided attacks is after a while of having to defend left body kicks, knees and straights, you become desensitised to the point where a left head kick begins to look a lot like a body kick.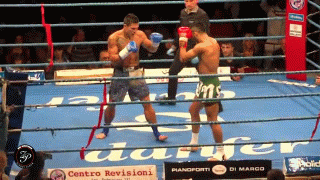 It is not enough to simply assume that southpaws are like mirrored orthodox fighters. Southpaws simply do not behave in-ring the same way that orthodox fighters do – if you are expecting to be parrying jabs from the opposite side you will likely be lit up with many attacks from the left side. As southpaws are far more free to double up and triple up on strikes they can easily become perplexing for even experienced opponents.
Right Hook
The final key technique is the right hook. We mentioned earlier the lead hands clashing in open guard. With it being so easy to parry a poorly thought out jab, smart southpaws will usually have a strong right hook. In the below gif, we see Petrosyan show two types of hook.
The first comes off a frame, he keeps Yoshihiro Sato at the a distance, knowing Sato will step in as soon as he lowers it Petrosyan immediately lands his right hook. Sato is obviously no amateur, deals with the hook, steps back and to the right. Petrosyan sees a chance to go on the offensive and uses a standard 2, 3 combo to cross the distance and land a second hook, this time blocked.
We see Petrosyan use this exact same frame again, although this time as his opponent tries to hook around it, Petrosyan sees the opportunity to snake a looping hook through and drop his opponent.
Join us in part two where we break down the specifics of how to react to your opponents footwork. If you want to see more of Petrosyan in action, here is his most recent fight in One Championship. Watch out for his use of the three key weapons.