Dana White has put more than a few eggs in the Darren Till basket, and it's understandable. Michael Bisping is on his way out, Dan Hardy was forced into early retirement and with the success of Conor McGregor, MMA is more popular in the British Isles than ever. Yet the British have never been a particularly dominating force in the UFC.
Which is what makes Darren Till so interesting. Here we have a British fighter, who is equally marketable in Brazil due to his many years spent there and being fluent in Portuguese, who is demonstrating skills that could make him elite. While we don't yet know how Till's wrestling would stack up against the best in his division, something that usually stops Brits from getting into the top 5, we do know that he was a skilled enough striker to stop the terrifying Donald Cerrone inside the first round.
Cerrone is a lengthy striker, who will kick low, middle and high, and looks terrifying doing it. He can chain combinations like no other and has the under rated ability to throw up a high kick whenever he wants. Unfortunately, Cerrone has never been great with tall fighters who are able to get in his face. As a result, Cerrone has become adept at intercepting knees and teep kicks to keep out of the pocket. Now if the idea of Till fighting a lengthy linear kicker who's weak in the pocket sounds familiar to you…
The Fighters
Wonderboy Thompson is a very similar striker to Donald Cerrone. While there will be many who would attempt to disregard this by pointing out that Wonderboy is a point-based kickboxer, and Cerrone is a Muay Thai based striker, this is all just fluff. Wonderboy may be a more fluid kicker than Cerrone, and would rather a side kick than a teep, but ultimately tactics are tactics, habits are habits and side on stance or no, the method to beat Wonderboy is not all that dissimilar from Donald Cerrone.
Against Donald Cerrone, we saw Darren Till just being himself. There wasn't a specific game plan to beat Cerrone so much as Till came out and fought the way he always does, and his style matched up perfectly. Darren Till uses his left side well, even throwing left elbows from southpaw, but what really makes Till exceptional is his use of the lead hand. As a southpaw, Till's lead hand is always covering his opponents, this hand fighting is frustrating, shutting down the opponent's jab. This constant movement of the lead hand, combined with heavy feinting and up-jabs from below the opponent's line of sight, makes Till very hard to time.
Feinting is probably the most important offensive tool a fighter can learn. There is very little that can't be achieved with a feint, if you need to work out how your opponent reacts to a certain strike, feint it, if you need to mess with your opponent's defence, feint. Darren Till is an expert at this and feints like you'd expect a pressure fighter would, even feinting a southpaw straight, before following through with the legitimate strike.
Stephen 'Wonderboy' Thompson, is a fighter who does well both on the front or back foot. Like a mongoose he will draw opponents out and strike them when they try to attack. The same back step counter that Conor McGregor has made famous, has been a part of Wonderboy's arsenal for a long time.
On the front foot, Wonderboy typically engages by jabbing, to hide a step 45 degrees out, followed by a right straight from that outside angle.

Wonderboy is known for throwing a lot of kicks, but it is his use of sidekicks that keeps him safe from failed kicks. If Wonderboy's kick falls short and he finds himself in T-position, he will quickly side kick his opponent away.


Possible matchup:
Part of what makes this match up interesting is that in order for Till to beat Wonderboy, he would need to fight at a range closer than what he is usually comfortable with. Typically, Till enjoys being on the outside of striking range, closing the gap to attack, and then leaving range. Unfortunately, this is the range that Wonderboy prefers to be in too, and Wonderboy's entries of attack from that long range are far more varied. Out in the open, Wonderboy has so many tools that could spell disaster for Till.
The best way for a puncher to beat a kicker, is to force them backwards, and stuff what kicks they can throw on the back foot. Till's feinted double left could prove very useful here, as it's one of the best ways to stop the back-step counter that Wonderboy loves to throw, as Wonderboy jumps back on the feint, he should find himself on the end of the real punch just as he goes to counter the first punch. In boxing exchanges Wonderboy is not nearly adept enough to make an impression on Till and will likely come out the short end of these exchanges, and unless Wonderboy has developed some new skills going backwards, Till he is skilled enough at countering kick attempts to give Wonderboy a lot of trouble.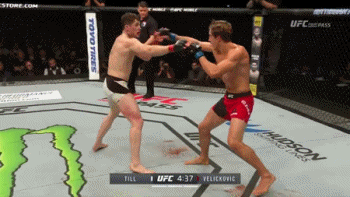 Wonderboy has a very bladed stance, especially when fighting from orthodox. Wonderboy can and does switch and does different things out of each of those stances, but his side on positioning is risky for him. To take advantage of this Till NEEDS to throw more kicks, to stop him from using his excellent lateral movement. Till's kicks are very good, but they're not used enough right now.
If Till takes a more active kickboxing approach, feinting Wonderboy, firing left hands, cutting off the ring with kicks, then Till can most definitely take the win home. If he stays on the outside however, there is no reason to think that it wouldn't be another Wonderboy victory.
Both Till and Wonderboy come from kickboxing careers, although neither was relevant competitively despite their undefeated records. While neither competed at a high level of kickboxing, like Glory or K-1, they are two of the best strikers in the UFC today, and the idea that they are both in the same division and already booked to fight, is very exciting.