Every fighter, be them a boxer, kick fighter or mixed martial artist wants punching power. It's the quintessential image of fighting. Yet so few fighters are truly great punchers. Even among those that hit hard there is still something missing. Today we're going to be talking about important aspects of boxing form to help you hit hard and get the knock out victories.  We'll be talking not just about the form but exercises that you can do at home in order to get the most out of the techniques.
Explosive Punching
There is a difference between hitting hard and having truly powerful punching. Often when boxers try to hit harder they perform the cardinal sin of simply swinging their arm harder. Unfortunately this isn't helpful for anything other than sapping your own energy. A great example of what not to do ironically comes from one of the top 5 ranked heavyweights in the world, Deontay Wilder.
Wilder is a peculiar fighter. Someone who has managed to climb all the way to the top of the heavyweight division despite seemingly not being able to box above a very rudimentary level. His punching form differs from time to time, but this mad swinging is quite common for the heavyweight champion. Despite his massive success, it's not recommended that you punch like him in your quest for power. In truth Wilder seems to be born with natural massive explosive power and would probably be the hardest puncher of all time if he knew proper form.
Effective Power Punching
Which brings us to Gennady Golovkin, a fighter who is no doubt powerful and explosive in his own way, but draws his power not from athleticism but from proper boxing form.
Golovkin's power comes from the effective management of his own body weight. Rather than simply swinging, we can instead GGG only moves his arm enough to deliver the punch. The actual force from the punch comes from two factors, the transference of weight from back to front, and keeping his feet under him.
As Golovkin throws the jab, he steps in bringing himself closer to the target (in this case, Kell Brook). As he throws his overhand right, we see his shoulders turn completely. This makes him as though he were in the opposite stance from the waist up, pulling his shoulder through the target. We see him draw his left hip back, loading it ready for the left hook. Once the overhand has landed, we see him snap back to normal in order to give the hook the extra pop it needs.
As he throws his right hand we see him step in with his rear foot, keeping his knee under him to deliver the power. Had he kept his foot in place it could well have lessened the power of the punch but more importantly put him off balance, allowing Brook to potentially counter, or get away.
Yeah but how do we do this?
The good news is there is a fairly catch all exercise for building the co-ordination to throw punches like this already in existence.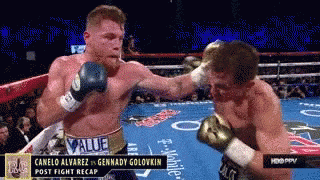 The first and best exercise for building co-ordination is a simple weight shifting exercise. Luis Monda, head coach at Johnny Tocco's Boxing in Las Vegas, demonstrates in the video below. This exercise focuses on the small shifts of weight moving back and forth while maintaining correct posture and balance. Simply doing this for 10 minutes a day will have a dramatic increase on your punching power, allowing you to get more leverage into your punches so you can throw like Golovkin.
The next drill, showcased in a video by Israeli coach Daskalo Jacobs, focuses on walking with your punches. This is largely a footwork drill designed to ensure you are able to punch moving forwards, backwards and able to pivot and side step out of the way at any given time. As you extend your arm on the jab bring your lead foot forward with it, and as you throw your rear straight, bring your rear foot forward with it. As this drill progresses it will also get you to step into the opposite stance while punching, allowing you to effectively chase down an opponent.
Finally, let's look at Chatchai Sasakul, the former lineal flyweight boxing champion teaching prolific muay thai fighter Sylvie Von Duuglas-Ittu. We see how he demonstrates perfect weight transfer, moving his hips and shoulders with each punch, maintaining perfect balance on all his strikes.
Thanks to this technique, Chatchai achieved 40 knock out victories. He had more knockouts than most have fights.