Switching stances is always a hot topic in martial arts. Regardless of whether it's TJ Dillashaw or Kyoji Horiguchi, everyone wants to switch stances in order to confuse their opponents and have more success in the ring.
What is it that actually makes switching stances useful though? And how are we able to make the most efficient use of it. Today we're going to look at the basics behind switching stances and when the best time is to do it.
Why Does It Work?
The main reason switching stance works is simple. When your opponent does it, you have to deal with everything they normally have to offer but in reverse. In theory at least, in actuality every successful switch fighter actually has different weapons in southpaw vs orthodox, the mythical fighter who can fight equally well from both stances simply doesn't exist, nor should it.
If you are accustom to a jab coming from the opponents left, and now what was a jab is a rear straight, you're going to be getting hit with power punches you aren't used to taking. A fighter like TJ Dillashaw is constantly switching mid combination and doing entire sections of his fights in southpaw.
Switching to Open Up New Threats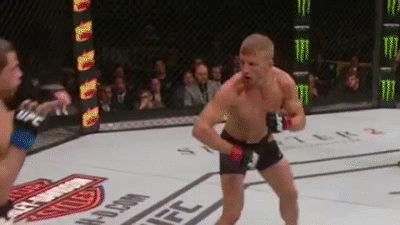 Here we see him exit, and then re-enter in the opposite stance and fire off a rear leg kick with more power than he could have thrown it pre change. This also changes the timing of the strike previously coming from that side.
These quick switches allow him to land big hits, quickly. From the outside it might look as though Renan Barao is just daft. How can he not see the blatantly obvious shots coming his way. The answer is, he can, he just isn't able to tell the angles they're coming from.
Now, it's fair to criticise here. A lot of why TJ's style works is because he has the cardio to keep up a war of attrition, in the above gif we see him switching and throwing a hook that had little to no power at all. A lot of TJ's shots are like this, but he has the cardio to build on it.
He also benefits from the lack of strong leg kickers in MMA, who could smash his legs while switching stance (something quite likely to happen, because he is switching all the time). So while his stance switching is very good, it is not necessarily the approach everyone should be taking.
Switching Mid Combination
Though it has been laughably called Neo-footwork, most switching harkens back to classic boxing. Great fighters going back as far as Jack Dempsey would teach methods of switching stance MID punch. If you have control of your weight transfer, you can use more subtle switches or 'shifts' to land unexpected power shots into your opponents blind spot.
If you want a great example of this look no further than Mike Tyson, who would dart in on an angle that allowed him to throw a power shot from southpaw.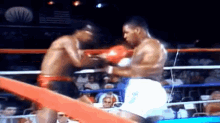 This is a shift, when you use weight transfer to switch stance, usually to set up a power shot. Commonly taught in the Russian boxing school, a classic approach to the technique can be seen here:
This move gets called the Fitzsimmons' Shift. After old timey boxer Bob Fitzsimmons who fought for the heavyweight title from Tom Sharkey, while being a middleweight. This bout was actually refereed by Wyatt Earp, the very same Earp who took part in the Gunfight at the O.K. Corral, of which many Western movies have been made. The fight ended due to Earp making a controversial ruling, one that followed him for the rest of his life, not unlike the gunfight. History was indeed wild.
While we for obvious reasons don't have footage of Fitzsimmons' throwing the punch, we do have the method described, Bob would throw his rear straight, and as the punch made contact he would step his rear foot in front of him, switching him to Southpaw, before launching a left uppercut at the body. This would see him to victory against famed boxer Jim Corbett.
The beauty of this trick is that truly anyone can do it. No crazy athleticism or speed needed, just some simple footwork. The simplicity of these techniques are why the USSR so heavily favoured them, documenting them and writing them into manuals with the clear intention that they be used.
Despite this, it's actually rare to see good boxers from the west make use of them.
One of the benefits to them in an MMA or Muay Thai context is that these shifts also allow you to cover distance quickly, while disguising your true intentions.
Cung Le uses a shift, which his opponent mistakes for a kick, only for him to spin into his famous spinning back kick.
In Muay Thai they become especially potent because switch kicks are easily the most common high scoring technique you will see land.
So my advice would be, start working on the Bob Fitzsimmons shift as a quick tricky punch, even if you're not a switch hitter. It's a quick and lethal technique that could secure you the win next time.