MMA as a sport is very trend heavy. Anderson Silva KO'd Vitor Belfort with a front kick, and from then on every fighter was trying to recreate that same KO with poorly thought out front kicks.
The current trend is the calf kick, a move that is 50% useful, 50% stupid. Allegedly common in the old Value Tudo days, the calf kick as we know it today was really popularised and innovated by Cub Swanson.
Swanson is one of the unsung heroes of MMA, he was a trailblazer for the sport, yet for one reason or another is often forgotten about. In the last two years, calf kicks are the current meme kick that everyone emulates, but Cub Swanson was finding a use for them as far back as 2013.
It's also a kick that has 0 relevance in any sport other than MMA, and for good reason. The calf kick as it is used in MMA, only works because of how poor MMA fighters are at checking kicks.
Mixed Martial Artists have the habit of simply absorbing kicks and as they try to tough the kicks out, they accumulate more and more damage. With regular low kicks to the thigh, this can be devastating, for a great example watch Jose Aldo and Urijah Faber's WEC fight, which put Faber on crutches.
Calf kicks have a somewhat different effect. They're not as powerful as kicks to the thigh, they do however cause the calf to swell. A swollen calf is harder to walk on. It isn't necessarily harder to tough out calf kicks, but it certainly is a different sensation.
The issue, to anyone who has taken a glance at a leg in their life, is that the calf is attached to the shin. The shin bone being the exact bone you want to check a kick with. In order to stop a calf kick, all you need to do is perform a simple check.
The common argument is that the calf kick will sweep your leg out if you try to check, which isn't really true. You have the freedom to not bring your leg up high.
Here we can see kickboxing legend Toshio Fujiwara, literally just checking calf kicks like you would any other technique.
Additionally, when being hit with a calf kick, there is a good chance that your opponent will just kick your shin anyway. As was the case with Chris Weidman, who opened with an almighty calf kick and snapped his leg. When Silva broke his own leg on Weidman (funny how these things turn out) it happened via a low check.
This low check is when the defending fighter brings their leg up to defend a kick with the thickest part of their shin, just under the knee. This solid lump of bone has resulted in many-a sore legs. It is also the exact part of the shin that you risk kicking every time you go for a calf kick. I've supervised sparring sessions between my own students which have seen swollen feet from accidentally kicking the shin, or calf kicks being outright checked.
Missing a thigh kick means you either distanced wrong, or your kick was checked. Missing a calf kick can literally come from you simply kicking at slightly the wrong time, in addition to being checked. There are more ways to fail on a calf kick. Which means the calf kick requires a lot more timing.
Aiming for the moment the opponents foot is about to touch the floor makes for a good opportunity to calf kick, and indeed pull off a sweep. Lyoto Machida was pretty good here: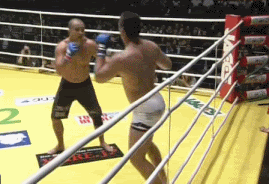 Judo practitioners will also likely succeed more with calf kicks, as a calf kick and a sweep can mimic one another.
So why do we see them so much? We asked this earlier but the time has come to more fully elaborate. MMA is still primarily a grapplers sport. This might be a polarising statement, considering most of the recent UFC champions have been strikers – but these strikers only succeed via having competent enough grappling to keep the fight standing.
Despite Muay Thai and Kickboxing being the most effective forms of striking, there are very few strikers with strong Muay Thai backgrounds, and even fewer with K1 rules backgrounds. While Muay Thai is usually trained in MMA gyms, there is a world of difference between technical muay thai training, and essentially just doing Muay Thai padwork to get competent at basic strikes – which is what the majority of MMA fighters do.
Thai Boxers and kickboxers are continuously drilling low kick defence. Checking low kicks is instinctual to someone with a strong background in Muay Thai – however with very few crossing over, and MMA fighters dedicating a lot of their time to grappling – checking kicks goes by the wayside. As we mentioned earlier, MMA fighters will simply absorb kicks rather than take the time it takes to learn to defend them. This has been an irritating quirk of the sport since its inception.
In Muay Thai and Kickboxing you will not see calf kicks at all, because fighters are so good at checking kicks, even attempting a calf kick will result in pain or in worst case scenarios, injury.
So, should calf kicks be avoided? Ideally yes, but in practise fighters get comfortable with certain skills, and in order to keep their momentum going it's probably best for them to keep using the techniques they currently find work. However, should the state of striking in MMA ever improve, and fighters start learning basic kick defence, the calf kick may well have to go by the wayside.